Article  
Igloofest goes to Québec City for the official Jamboree party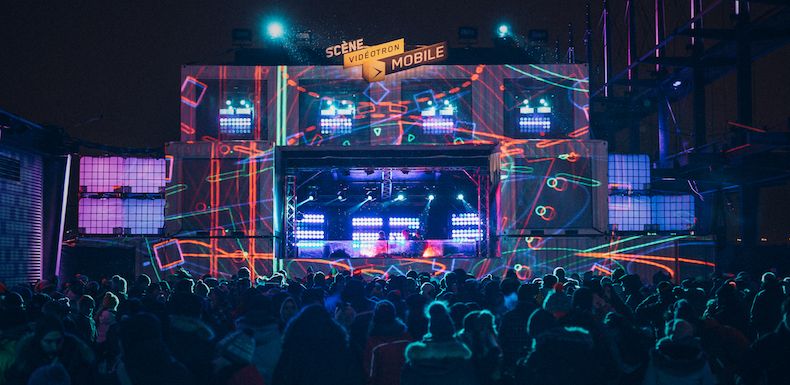 It's official: Igloofest is going to Québec City Saturday, February 13, as part of the official Jamboree party presented by Vidéotron Mobile. Right after the FIS Big Air World Cup final and the Winter Carnival Night Parade, crowds will come celebrate under the stars, where electronic music, video projections from Fokus Productions, and explosive lighting by BlackOut Design will all be part of the evening's festivities!
"To celebrate our 10th anniversary, we decided to extend the festivities in Québec City for one night to see what locals are made of," says Pascal Lefebvre, president and co-founder of Igloofest. "Our loyal fans in the greater Montréal area are also welcome to continue the party with us as we mix snowboarding with electronic music at the Jamboree! And, who knows, maybe we'll fall in love with Québec City and come back in 2017!"
THUGLI and Smalltown DJs on the Vidéotron Mobile Stage
Just for the occasion, DJs THUGLI and Smalltown DJs will have party-goers dancing from 10 p.m. to midnight. The DJs will be performing on the Vidéotron Mobile stage, right up there on the Big Air scaffolding. DJs Tom Wrecks and Pat Drastik of the Toronto duo THUGLI have been wowing festival-goers around the world since 2012, reproducing their expert blend of Southern rap and electronic music from London to Hong Kong. Their dynamic scratches, complex mixes, and striking musical selections are performed using four turntables-a rare feat today-and are sure to get the crowd going. Another big name in the Canadian electro scene, Smalltown DJs, will transform Îlot Fleurie into a giant dance floor. The duo from Calgary, consisting of Pete Emes and Mike Grimes, splits its time between residency shows in Calgary and Las Vegas, its Bigfoot label, and performances all around the world, including appearances at big-name festivals like Lollapalooza and Shambhala. Entry is free for what is sure to be THE event of the season in Québec City... Don't miss it!
Break out the crazy costumes and show off your Iglooswag
As part of the crazy Igloofest atmosphere, Gros Blogue joins the Jamboree party to present the famous Iglooswag costume contest, come to symbolize the Montréal event's festive spirit. So put on your craziest outfits and your wackiest costumes. Rummage through those attics and thrift stores and resurrect that sweet one-piece from decades past. If you think it's too flashy, old-fashioned, neon, or pastel... look no further, you've found it!
Share the Bus
New this year, a shuttle will be available to transport spectators who plan to come to the event from Montréal for $50 round trip + taxes. The shuttle will leave Friday, February 12, at 5:30 p.m. from the Palais des Congrès de Montréal (1001, Place Jean-Paul-Riopelle) and will arrive in Québec City at Place D'Youville. It will return on Sunday, February 14, at 5 p.m., departing from Place D'Youville and arriving at the Palais des Congrès de Montréal. Visit jamboree.com to reserve.
Friendly yeti tip... don't miss out
Subscribe now!