Article  
THE WINNERS OF THE IGLOOSWAG CONTEST, IN COLLABORATION WITH GROS BLOGUE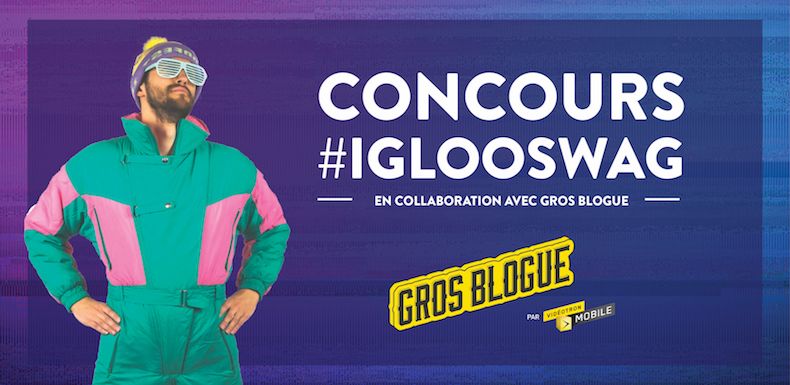 Her's the long-awaited moment. When the fruits of your effort are rewarded. FINALLY. We know: you gave EVERYTHING. Fur madness, Igloobling, retro-fluo and beach party, we saw all the colors! If we could give a prize to each of the 36 finalists, we would have. Believe us.

This wasn't an easy choice. Proof HERE.

The big winners of this edition of the 2016 IGLOOSWAG contest:


3rd prize:
Three nights "Cozy" double occupancy at the W Hotel Montreal
A pair of Anfibio boots BRAVO to Maylee Keo for her cocktail ensemble. Colorful and practical. The perfect look for being stylish while staying hydrated on a sunny summer day.2nd prize:
Two nights for 2 persons at White Face in Lake Placid
Six ski lifts days at White Face
A pair of Anfibio boots Your turn to be rewarded, Maude Fortin. Let's say your swag over the weeks became increasingly next level. This one was our favorite. Little shout-out to the Barbie crying: "SOS".
1st prize:

An all-inclusive trip to Montego Bay (Jamaica) for two people, offered by Sunwing Vacations
A Samsung Galaxy S5 Neo + a one-year subscription to a Premium package offering unlimited music, offered by Videotron Mobile
A Moose Knuckles winter coat

SynthYa Haché! BRAVO BRAVO BRAVO.You amply deserve first prize. Go warm up properly for all of us. And take lots of pictures with your Samsung Galaxy S5 neo to make us all jealous bin when we stalk you on the social networks (joke). 
Friendly yeti tip... don't miss out
Get the deets on this year's lineup.