Article  
INFO-PROG 2019 | WEEK-END 3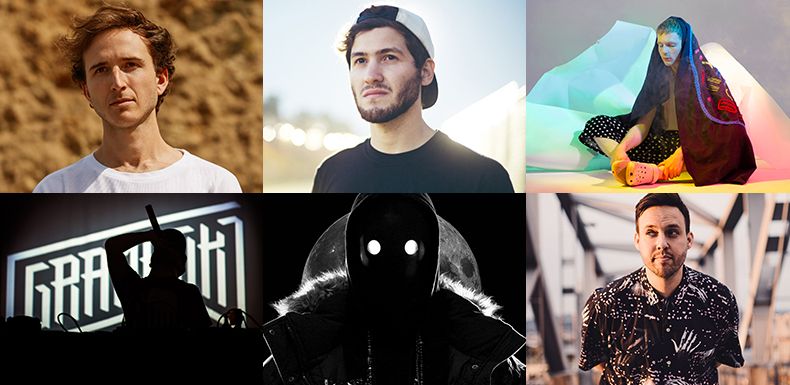 WEEKEND#3
PRESENTED BY V
THURSDAY, JANUARY 31ST
RL GRIME
The 3rd and final weekend of this power packed 13th edition will start with a night full of heavyweight bass! At the Sapporo stage, as Montreal's Tommy Kruise opens things up with his patented mix of gut-rumbling electronic tracks. Right after that, Baauer will keep the trap vibes pumping, before passing the baton to RL Grime, for a melodic and floor shaking crescendo.

Not to be outdone, the Videotron stage will feature its own bass heavy lineup, staring with Thomas White's sophisticated take on the style, followed by Ryan Playground's eclectic selection. Finally, the UK's Iglooghost, flying the flag for Flying Lotus' Brainfeeder label, will deliver a set to remember, blending hardcore sub-frequencies to intricate productions – don't miss out!
FRIDAY, FEBRUARY 1ST
GRAMATIK
It's going to be soulful evening at the Sapporo stage on February 1st! The fun begins with local luminary Planet Giza's mix of lo-fi hip hop and electronic grooves, with France's Kartell picking up on that vibe and keeping the dance floor shaking with his twitchy beats. Then, in the grand finale, Gramatik, presenting a live show complete with guitarist, will pump up the bass all while keeping the beats funky and next level. Big fun ahead!

Meanwhile, I Love Neon will be hosting the Videotron stage, where DJ Mayday will drop a mix of dance styles to get everyone's butts shaking, before MTL 80s style synth heroes Le Matos take things in a techy direction and France's masked man Danger ends things by taking us an adventure though his electronic, manga-influenced world, in an amazing live set!
SATURDAY, FEBRUARY 2ND
MACEO PLEX
This is it: the night to end all nights (for 2019)! We hope you're ready, because it'll be an amazing one at the Sapporo stage, in collaboration with Vice, as Montreal's own Ostrich sets us up for a night full of techno fun. Then, the one and only Maceo Plex will bless us with an amazing (3h30!) set full of his trademark twists and turns, taking us on a journey through the many permutations of house and techno. This is a can't miss event, and the perfect way to celebrate another fantastic season.

Over at the Videotron stage brough to you by 00:AM, we'll start with the bumping sounds of Lis Dalton, before the 00:AM DJs keep the energy up with even more high energy house. Finally, Sweden's Baba Stiltz will take us home in a sophisticated style, leaving everyone with warm hearts and smiles on their faces.
Friendly yeti tip... don't miss out
Get the deets on this year's lineup.