Article  
Igloofest 2019 : Full programming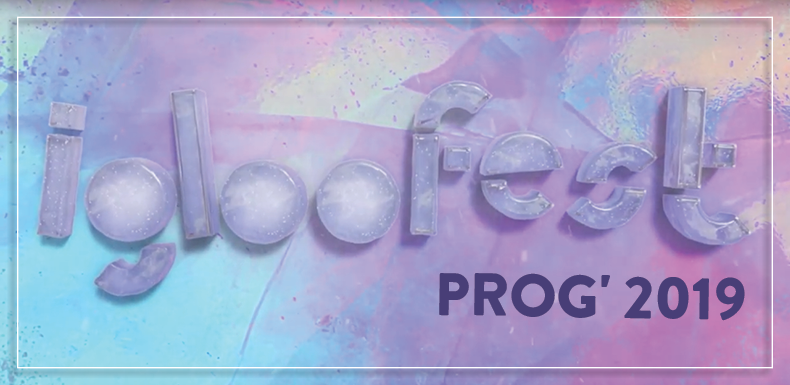 Above & Beyond, Diplo, Maceo Plex, Gramatik, Four Tet, RL Grime, Polo & Pan and many more at Igloofest 2019
Unveiling colossal programming for this 13th edition
Montreal, December 5th 2018 – For its 13th edition, Igloofest® unveils a rock solid line up with some of the most in-demand artists on today's global circuit, including Above & Beyond, Diplo, Maceo Plex, Gramatik, Four Tet, RL Grime, and Polo & Pan. From January 17th to February 2nd 2019, over 9 festive, spellbinding and unique evenings, Montreal will vibe to the rhythms of the world's coldest music festival. It has to be said: a winter without Igloofest just isn't really winter!
Megastars each and every night
Igloofest always delivers the brightest stars in electronic music, and we gave it our all so each of this 13th edition's nine evenings will be one to remember, starting with our grand opening on January 17th, featuring France's Polo & Pan (FR) (DJ Set), who'll open the festivities with their scene-setting house at the Sapporo stage. To follow up this stellar kick off, the one and only Diplo (US) whose productions have graced records by Beyonce, Madonna and many more,takes control the very next evening of January 18th, with his trademark mix of styles. Then, it's electronic innovator Four Tet (UK) who'll headline our first weekend's final night with an eclectic mix of sounds, on January 19th.
The following week, Bass House lovers won't want to miss Chris Lake (UK)'s headline set on Thursday January 24th. As for Above & Beyond (UK) on January 25th… let's just say a record breaking pre-sale so far guarantee this one will be jam packed and full of energy! Techno lovers will also see their time to shine, as Chris Liebing (DE) delivers the crescendo to this second weekend on January 26th, immediately following Mind Against (IT): that's a double dose of heavy, continental style!
You'll barely have time to catch your breath, as RL Grime (US) and Baauer (US) set off this final weekend on January 31st with two sets full of heavy bass and beats. The next day, Gramatik (SI) brings a multifaceted edge to the dance floor on February 1st. Finally, our grand finale will have electronic music lovers swooning as we present the legendary Maceo Plex (US) on February 2nd: a must-attend night for techno lovers and anyone who wants to dance all night long!
The coolest artists, the hottest styles
Alongside these heavy hitters, Igloofest will also present rising talent shaking dance floors across the globe. We loved Skatebård (NO)'s Piknic performance this summer, so we can't wait to have him back on opening night January 17th, just as we can't wait to host the heavily anticipated Nina Las Vegas (AU) and deep house don Eagles & butterflies(US) the very next night. Volvox (US)'s show-stopping take on techno headlines the Videotron stage on January 19th, and on January 24th YOOKiE (US) will finally get to present their hardcore sound in full to a Montreal audience. #freeyookie! Spencer Brown (US) will drop some hypnotic grooves on January 25th, while Waze & Odyssey (US) take us on a journey through house that same evening. On January 26th, get ready for a very special night of innovative techno courtesy of IlianTape's Zenker Brothers (DE) and Skee Mask(DE). Brainfeeder's Iglooghost (UK) will twist bass into brand new shapes on January 31st, before electro livewire Danger (FR) brings his amazing live show on February 1st, and rising house maven Baba Stiltz(SE) takes the Igloofest finale into orbit at the second stage on February 2nd.
Given its pride in our excellent local music, Igloofest cannot wait to showcase Montreal's finest underground talent, including international superstar Jacques Greene, energetic Shaydakiss, local hip hop icon Tommy Kruise, underground icon Softcoresoft,innovative producer Robert Robert, local heroes Le Matos, Mightykat, Nymra & Sophisticated, Ryan Playground, Thomas White and many, many more. In total, with all of these stars from near and far, that's over fifty varied and original performances (DJ or live) that will heat up the party and the hearts of festivalgoers this year.
A wonderful site to rediscover
As is tradition, Igloofest once again had fun reconfiguring its site at Jacques-Cartier Pier to create an all-new experience. In addition to discovering the second stage's new location, as well as the dance floors and VIP terraces, festivalgoers will find an entire festive and culinary universe to explore at the Igloovillage. Alongside larger than life games of skill and wacky activities, including the one and only Iglooswag costume contest, with its cheeky themes, visitors will find a generous variety of snack bars with menus curated for the climate, so they can recharge and satisfy their sweet tooth alongside our irresistible dancing Yetis. And of course, the heated pavilion will be always be open to all, whenever a dancer wants to warm up for a moment.
Tickets and travel packages 
To share the experience with as many people as possible and to bring in even more visitors from across Quebec and around the world, Igloofest offers a brilliant variety of packages including lodging and/or transport alongside tickets. All the information on tourist packages is available here. 
Igloofest is also extremely welcoming to student and/or corporate groups, with or without VIP service. For all information on VIP and group rates, click here.
For all information concerning tickets and season passes for Igloofest 2019, please visit our site here.
Special thanks to our very special partners 
For this 13th edition, which promises a wild ride, Igloofest would like to wholeheartedly thank its precious partners, who contribute to the magic of this singular festival, starting with The Old Port of Montreal with whom this great idea all came together in 2007. A huge thanks to our presenter Sapporo; our official collaborators Solotech and Videotron; our weekend presenters: Banque Nationale and V; our sponsors: SAQ, Poppers, Red Bull, Casino de Montréal, Jack Daniel's and STM; our public partners: Tourism Montreal, SDC du Vieux-Montréal and The Government of Quebec; our suppliers KANUK, Landr, Stageline, Zone Festival, Vendini, square and Simplex tool rentals; our media partners: MusiquePlus, Urbania, Voir, Vice, exclaim.ca, Newad, UB Média and Publicité sauvage and to our tourism partners: William Gray – the official artist hotel, Hotel Monville, Hotel Zero 1, HI-Montreal Youth Hostel, Happening Gourmand, Mtl Zipline, La Grande Roue de Montréal and Via Rail.
Igloofest 2019 – January 17th to February 2nd
Thursdays, Fridays and Saturdays. 
Jan 17-18-19. // Jan 24-25-26. // Jan 31. Feb 1-2. 
Jacques-Cartier Pier, Montreal's Old Port
7:30PM to 12:30AM (Fridays and Saturdays) / 7:30PM to 11:00PM on Thursdays 
18+*/ / No readmission
Friendly yeti tip... don't miss out
Subscribe now!