Article  
IGLOOFEST 2017 LINE-UP OVERVIEW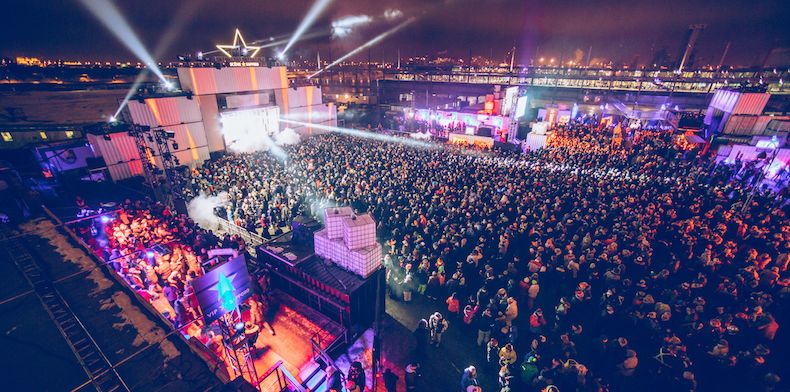 WEEKEND 1
Thursday, January 12
The Sapporo stage kicks off our 2017 Edition with a variety pack of sounds, built
around a futuristic techno influence. The night begins with local light Deadlift's
bump and groove, before CRi takes over with his uniquely soulful house. Then,
Berlin's legendary Apparat will deliver a headline DJ set full of techno flavour.
At the Vidéotron stage, Montreal's V.RO will start the proceedings with the deeper
side of house and Cesar Romero will keep the adventurous vibe going in a tech
house style.
Friday, January 13
To start the weekend off right, Igloofest will deliver some truly outstanding techno
to get you moving. 8Day's Kris Tin will open the Sapporo stage with some dark and
daring vibes, before the one and only Carl Cox delivers over 30 years of dance music
experience across an exclusive 3 hour set to cap off an incredible evening.
The Vidéotron stage meanwhile, will feature The RawSoul, an expert crate digger
whose wildly funky selection crosses house, disco and beyond! Then, Miss Mee will
switch things up, taking us all on a journey through the deep and ravey.
Saturday, January 14
We're capping off our first weekend with an all-international line up, perfect for our
dance floor lovers. America's Lee K will warm up the Sapporo stage, followed by
house and techno perpetual motion machine Anja Schneider! Leading light of
soulful techno and Dutch trendsetter Joris Voorn will then take us home.
At the Vidéotron stage, Montreal's Lucie Lebel & Jeff Fontaine will join forces to
deliver the most minimal of grooves, before Amir Javasoul keeps things bumping
and techy in the headline spot.
WEEKEND 2
Thursday, January 19
If you love funk, you won't want to miss the Sapporo stage when we kick off our
second week of 2017! Local production maestro Robert Robert will get our bodies
moving this Thursday evening, before Will Clarke B2B ARDALAN take us on a
journey through the bass-heavy side of House. Then, the legendary MK will touch
down to deliver the most soulful of jackin' beats.
Over at the Vidéotron stage, get ready for lift-off when Trash Family's Ozias B2B
Digital Fire, KL.TZ, and Mr.Nokturn deliver the high-energy electro you're craving.
Friday, January 20
Ready for the weekend? We hope so, as we'll be bringing the party! The winner of
our Igloobeat Sapporo contest will start the night before Mind Against combines
the roots of House and Techno into a potent musical stew. Finally, Josh Wink and
Steve Bug will perform a massive back-to- back set to rapturous crowds, combining
House classics and new school anthems.
The Vidéotron stage will feature the techno leanings of Montreal's Zepha, with
Atroxx B2B Mike Larry delivering a finale full of big booming beats.
Saturday, January 21
Our second Saturday wraps up with the deeper sounds of techno when Head
Nodders ignite the Sapporo stage, preparing us for French DJ Jennifer Cardini's
funk-filled vibe. Then, Chris Liebing, founder of Berlin institution CLR Records, will
bring the night to a crescendo, ensuring Berlin fans get their hearts' desire.
At the Vidéotron stage, Neon presents a night of good times, when DJ Mayday
makes her return to her Montreal, delivering a set full of urban flavour, before
London-via- Canada's B.Traits headlines with high energy beats and bass.
WEEKEND 3
Thursday, January 26
The start of Igloofest weekend #3 is dedicated to banging House music with a
futuristic edge. Local DJ Moody Jones will get the vibe going at the Sapporo stage,
followed by LA-via- New York's Lauren Lane's soulful house sounds. But save some
energy, because masked wonder Claptone will fulfill all of your groovy dreams with
a headline set you won't want to miss.
At the Vidéotron stage, Saintwoods hosts a night of next level hip hop, featuring
local trendsetters Nana Zen, Planet Giza and Da-P's broken beat quantum leaps.
Friday, January 27
Vive La France! Tonight's Sapporo stage is dedicated to extraordinary French
creators. Saint Tropez' Oniris will present a forward-thinking vision of techno
that's sure to get the night started on the right foot. Next, get ready for an extended
set from the legendary Laurent Garnier, a techno grandmaster whose continuous
innovations in the genre will keep you enraptured for a 3 hour set!
Over at the Vidéotron stage, it's all about that instrumental hip-hop as Moto Made
takes control to present Noo-Bap and Grandbuda's unique flair.
Saturday, January 28
For our third Saturday, we're presenting the future of House! After Toronto duo
City Kid Soul start things off with a funky touch, Poland's Catz 'n Dogz will deliver
the bump n' flex you crave. Then, Bristol's Eats Everything will continue on a house
vibe, delivering some bass-heavy goodness that will end your weekend in style.
Over at the Vidéotron stage, Astropolis have cooked up something special, as
France's Sonic Crew will take the reigns ALL NIGHT LONG with their unique techno
vibe.
WEEKEND 4
Thursday, February 2
Hold onto your tuques and get ready to party when Kannibalen take over the
Sapporo stage to present a night full of hard-edged local sounds and heavy bass!
The fun starts with Dabin's gurgling sub-frequencies before Apashe takes us on a
journey through some banging new school electro. Finally, hometown hero Snails
will push things to the limit with his EDM-tinged dubstep.
Meanwhile, over at the Vidéotron stage, you'll experience a very different style of
bass when Sinjin Hawke and Zora Jones go back to back all night long, delivering
the finest in futuristic styles.
Friday, February 3
Get ready for some legendary sounds! Our fourth Friday will kick off with
Softcoresoft's techy, subterranean vibe, setting the stage for a dance-lover's
paradise. France's Shiba San will then keep the deep grooves coming with a mind-
blowing selection of textural house. Finally, the legendary Green Velvet, straight
from Chicago, will sweep you off your feet and get you jackin'. The Sapporo stage is
in for a treat!
Over at the Vidéotron stage, J'vlyn d'Ark will showcase her hypnotic blend of house
and techno before Switzerland's Mimetic ends the night with driving techno.
Saturday, February 4
We end our official 2017 edition with a night of rich and heavy techno. Local DJ
Motions will get us started with his mesmerizing grooves before 2016 Piknic
favourite Louisahhh delivers her energetic bounce to get all of our hearts. Finally,
"The Baron of Techno" Dave Clarke headlines our grand finale with a tour de force
across the dance music spectrum.
Over at the Vidéotron stage, local DJ Seychelle will open the proceedings and before
the funky house sounds of London's Moxie take us home.
Friendly yeti tip... don't miss out
Subscribe now!