Article  
2020 IGLOOSWAG CONTEST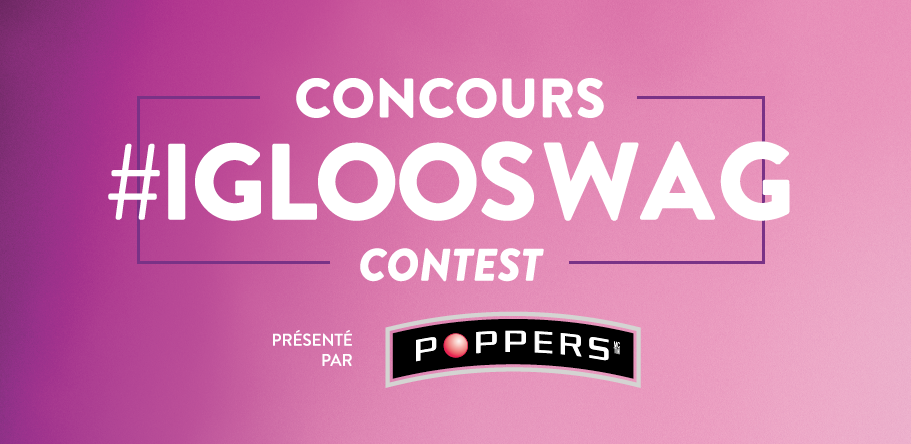 Many of you guys have been asking and the answer is yes, we will have weekend themes this year and YES our Iglooswag contest is back! Poppers will be presenting our cool photobooth and we plan on being #SUAPOP thank you very much!
Sooooo, we encourage you guys to dust off your old funky outfits ASAP cause the grand igloojury will be evaluating your pics on the following aspects : respect of the weekend theme, on your accessories, on your creativity, on your energy but mostly on your #IGLOOSWAG.
How to participate you ask?
(1) Take a picture at our photobooth at Igloofest.
(2) Find your picture on our Facebook page (in the album of the day it was taken).
(3) On the Tuesday following the event, go to our Facebook page and if you are a finalist of the week-end, tag yourself in the photo.
(4) Cross your fingers! Winners will be announced on February 12th!
Our 4 weekend themes :
WE #1 : Après-ski
WE #2 Drag
WE #3 : Snowbirds
WE #4 : Bling & Swag
Without further ado, here are the prizes you could win :
👉 FIRST PRIZE: WEEKEND AT THE MASSIF FOR TWO 
(2 days of skiing and a toboggan run at Le Massif Charlevoix + accommodation in the condo in Les Caches de la Grande Pointe)

👉 SECOND PRIZE: $750 AT THE NORTH FACE 

👉 THIRD PRIZE: OLD-MONTREAL FOR TWO 
(1 night at William Gray + a $250 gift certificate at Chifa restaurant)

👉Every weekend, a selection of 3 finalists will be chosen by the Iglooswag jury. The picture with the most likes on Facebook will be awared the prize of a pair of VIP tickets for the following weekend!
GAME ON #IGLOOSWAG!

Friendly yeti tip... don't miss out
Subscribe now!