Article  
Igloofest Québec Going All Out for its Second Year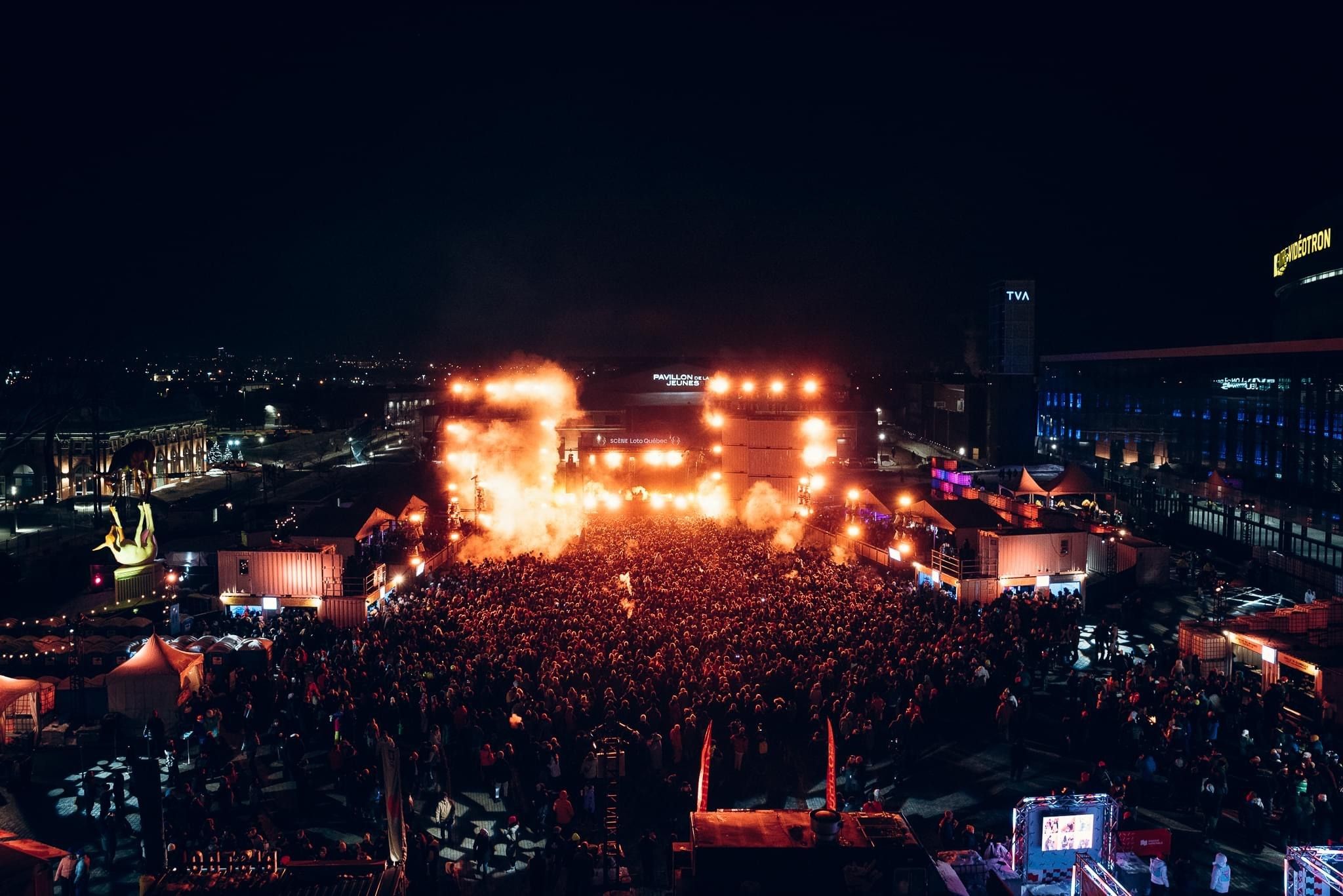 From March 7 to 9, 2024 - Presented by Loto-Québec in collaboration with Videotron
Québec City, Wednesday, November 15, 2023 – Weather alert: winter's hottest party, Igloofest Québec, presented by Loto-Québec in collaboration with Videotron, will hit Québec City for a second year running. Gestev and Multicolore are calling on cold-weather warriors to join them from March 7 to 9, 2024, in the heart of ExpoCité at Place Jean-Béliveau to show winter who's boss with an electronic dance party featuring Lost Frequencies, Above & Beyond and KAYTRANADA. It's time to dust off that "alter igloo" and ultra-fly snow suit, because Igloofest 2024 is going to be epic!
TICKETS
Seeing is believing, which is why Igloosapiens are invited to pick up their day passes (for as little as $39 plus tax) as soon as tickets go on sale on Friday, November 17, at 10 am at igloofest.ca/quebec.
The bigger the party, the better the vibe
Heading into its second year, Igloofest Québec is expecting almost twice as many partygoers in March as last year. "Last year, the Friday-night event with Diplo was sold out," says Gestev president Martin Tremblay. "That confirmed our hunch, that electronic music is big in Québec City. With our fantastic lineup and the positive experience had by the thousands of people who came out for Year 1, we're confident we'll attract even more electroheads this year." The stage will be repositioned and the outdoor dance floor expanded to welcome 20,000 Igloosapiens over the three-day period, compared to 12,000 last year. New activities will also be added in the surrounding wooded and grassy areas.
"Loto-Québec is pleased to present the second edition of Igloofest Québec, an event that brings people together to celebrate winter in the heart of Québec City," says Benoit Lefrançois, Corporate Vice-President of Responsible Gambling, Communications and Social Responsibility at Loto-Québec. "Supporting this festival is just one of many ways we work to provide entertainment to Quebecers and contribute to the economic and social development of communities across the province."
World-class DJs
The announced lineup features some very big names and promises to light a fire under the crowd. "It was magical to see the festival come alive in Québec City last year," says Multicolore cofounder, president and CEO Pascal Lefebvre. "The big-name DJs that we're announcing today, including Québec City-native CRi, can look forward to a very warm welcome from the city's electronic music fans."
The festival opens with a bang on Thursday, March 7: Belgian DJ Lost Frequencies will be headlining with his unique brand of multidimensional pop-infused electronica. DJ Shieldie, a fixture of the local music scene, and Indigenous artist DJ PØPTRT, whose dynamic sets span multiple house styles, will also be on hand to get the party started. Friday, March 8, will open with Laure's organic, melodic deep house, followed by local DJ CRi, whose distinctive sonic palette is characterized by pulsating house synths, complex syncopated snares and futuristic bass lines. Next to hit the decks and fuel the winter fire will be the British trance group described by Q Magazine as the world's biggest cult hit, Above & Beyond. And for closing night on Saturday, March 9, the abominable snow crew will bounce to the sounds of one of the industry's most in‑demand DJs, Kitty Ca$h, followed by the elegant and dancy hip-hop of Lou Phelps and the hip-hop and soul-influenced sound of Sango. The event's stylish close will come courtesy of Haitian-Canadian electronic musician, music producer and DJ KAYTRANADA.
Thank you to our event partners
This bigger, brighter, bolder second edition of Igloofest Québec is made possible by the festival's valued partners. Special thanks to presenting partner Loto-Québec and collaborating partner Videotron for their hefty contributions. We are grateful to major partners Sapporo, National Bank and Solotech, and to official partners Distillerie 3 lacs, Red Bull and SAQ. Special mention goes to government and tourism partners Gouvernement du Québec and Destination Québec cité, and to media partners TVA and Journal de Québec.
About Igloofest
Since 2007, Igloofest has been bringing together thousands of music lovers to dance under the stars in Montreal's Old Port. Last year, in 2022, Igloofest celebrated its 15th birthday and set the snowball rolling for this inaugural show in Quebec City. With its signature steel structures and striking stage architecture forming the chillest of backdrops for a musical lineup featuring top local and international artists, the ever-playful Igloovillage, and the tackiest of snowsuit contests, Igloofest is one of Quebec's hippest events and one of the country's top winter destinations.
About Gestev
Founded in 1992, Gestev is a dynamic event management company specializing in happenings that make their mark locally as well as on the world stage. Gestev leads the way for producing, broadcasting and promoting sporting and cultural events to showcase homegrown and international talent throughout the market it serves. As a subsidiary of Québecor Sports and Entertainment, it stands alongside the Vidéotron Centre, the Baie de Beauport, the Capitole Theatre, Musicor and the Cabaret du Casino de Montréal. Gestev goes above and beyond to deliver quality events with extensive opportunities for convergence driven by the strength of the Québecor Group. Red Bull Crashed Ice, Vélirium, the UCI Mountain Bike World Championships, the Je Cours Qc running events and the FIS Cross-Country Skiing World Cup events are just some of the major happenings organized by Gestev, which also manages its own experiential marketing agency in Québec City and Montréal.
About Multicolore
Multicolore has been making its mark on the Quebec City event and culture scene for nearly 20 years. An expert creator of vibrant, colourful and inspiring experiences, Multicolore is the event driving force behind Montreal musts Piknic Électronik, Igloofest, the MEG Festival and Super Fête. With its production division, Matane Productions, and now Courage! Multicolore designs and produces festivals and events around the world and imagines unique social experiences to entertain people and bring them together by mixing talents and creative collaborations of all shapes and colours.
About Courage!
Courage! Was founded in 2018 in Montreal with a focus on artist management, music marketing and production, and concert and event production and presentation. Courage! drives the artistic and musical curation for festivals including Piknic Électronik and Igloofest in Montreal, as well as crafting concert hall and club lineups under the brand (Avec) Courage.
For more information, visit www.igloofest.ca
-30 -
Info and interview requests:
Melissa Parent
Communications senior advisor
mparent@gestev.com | 418 931 4068
Friendly yeti tip... don't miss out
Subscribe now!