Article  
"THURSDAY BRING A FRIEND" PROMOTION | Thursday, January 28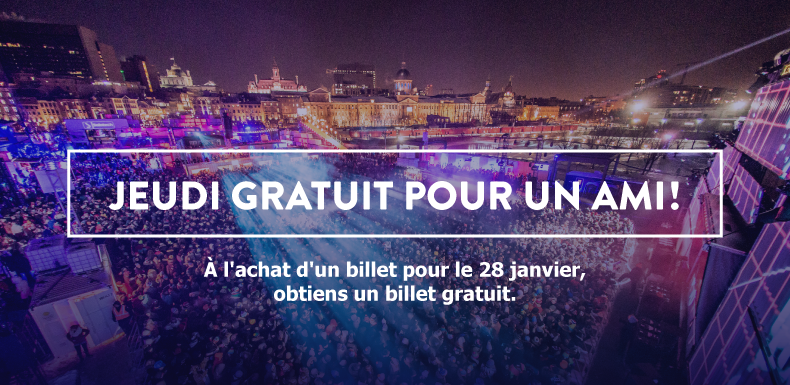 We're already at the beginning of Igloofest's 3rd weekend of festivities. It kicks off again tomorrow with a super-promotion FREE FOR A FRIEND Thursday.
To keep things simple, we're offering you a FREE ticket for this Thursday, January 28th when you buy your ticket online or at our Iglooboutique. It's all in effect as of right now so hurry up and get your ticket to get this great deal! This is the perfect opportunity to share Igloofest with one of your friends, roommates or even family members. Imagine how happy they'll be to receive such a nice surprise.
Why are we doing this? To make you happy, of course, but also because it's Michel Quintal's birthday (one of our Igloofest founders), and he wanted nothing more than to see the site filled to overflowing for his special day. And because coming to Igloofest with friends is so much fun.
If you're a passholder (IGLOOPASS, IGLOO4x, and IGLOOWEEKEND) or if you've already purchased a ticket for this Thursday, then you'll have received an email about this, which allows you to grab an extra ticket as well.
Can't wait to see you Thursday (with your friend).
- The Igloofest team
Friendly yeti tip... don't miss out
Get the deets on this year's lineup.