Article  
THE BLAZE, RÜFÜS DU SOL, Nina Kraviz, Anjunabeats, Charlotte de Witte …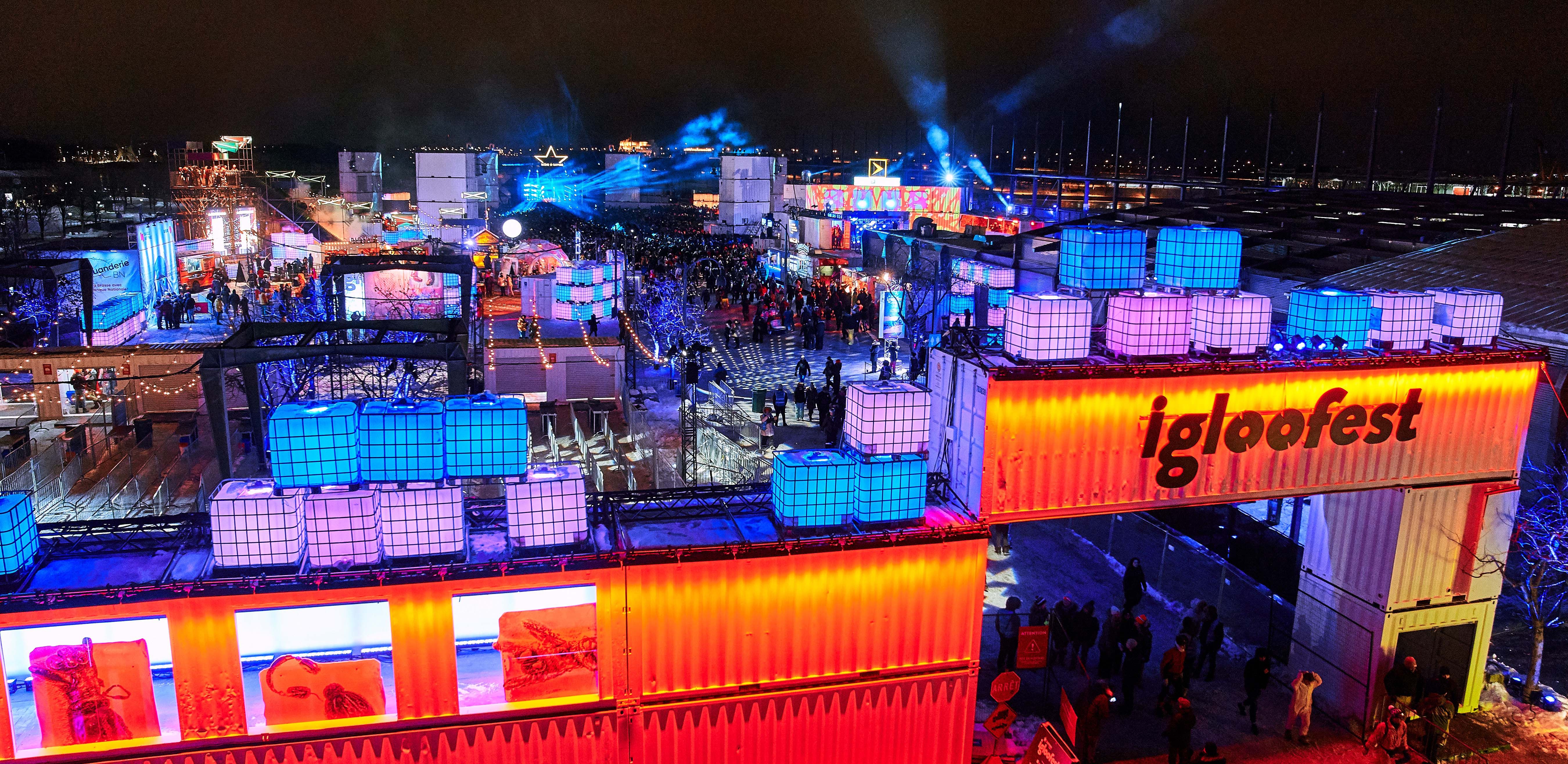 THE BLAZE, RÜFÜS DU SOL, Nina Kraviz, Anjunabeats, Charlotte de Witte, REZZ, Zeds Deads, ANNA and Reinier Zonneveld (live)…

…and many more at IGLOOFEST  
January 16th to February 8th 2020!
For its 14th edition, the world's coolest electronic music festival is back with 4 weekends of incredibly diverse music, featuring the cream of the electronic music crop from near and far! From January 16th to February 8th, Montreal will dance to the sounds of THE BLAZE, RÜFÜS DU SOL, Nina Kraviz, Anjunabeats, REZZ, ZEDS DEAD, ANNA and Reinier Zonneveld, not to mention Charlotte De Witte, to name just a few highlights.
This year will also feature brand new programming: Thursdays are now dedicated to special "OFF IGLOO" events, whose first artists will be revealed very soon!
Iconic names and amazing performances
Living up to their unshakeable reputations, this year's headliners will have Jacques Cartier pier moving and grooving, each with their own unique styles. On Thursday January 16th, the hooky melodies of French duo THE BLAZE (DJ set, FR) will officially launch Igloofest 2020. Then, legendary trance label Anjunabeats will have festivalgoers smiling and dancing on Friday January 17th, with a line up to be unveiled in just a few days. Finally, to close this first weekend with gusto, ANNA (BR) and Reinier Zonneveld (live, NL) will then deliver majestic techno epics, served hot on Saturday.
Weekend #2 will features sounds just as hot and spicy. Hyper-energetic Canadian REZZ (CA) will raise the roof on Friday the 24th, with the young i_o (CA), newly signed to the mau5trap label, on board as well. The very next night meanwhile, will be dedicated to the stars of techno, with the highly anticipated Nina Kraviz (RU) returning 7 years after her Igloofest debut, and rock solid Detroit institution Robert Hood (US) delivering his classic sound.
Our third weekend will be just as jam packed, as trio RÜFÜS DU SOL (AU) step up on Friday January 31st with a highly anticipated selection and a world class DJ set! But save some energy, as we'll be announcing some very special guests for Saturday February 1st. Trust us, and expect to see a crowd of thousands throwing their hands in the air!
We like to finish things in fine style, and the proof is in our 4th and final Igloofest weekend: Friday February 7th, Canadians ZEDS DEAD (CA) will bring the noise to the Sapporo stage, and the next evening, Charlotte de Witte (BE), now a global dance floor staple, will deliver the final moments of this 14th edition. Get ready for action!
Up and coming artists that are shaking up the scene
As usual, Igloofest's programming is full of electronic up and comers shaping the sounds of tomorrow, and once again, the freshest styles will be on display: Italo-Disco courtesy of Germany's Lauer (DE – January 16th), contemplative sounds by local hero Kora (QC – January 17th), the frenetic house of America's Honey Soundsystem (US – January 18th), the imperial electronic sounds of French phenomenon Vladimir Cauchemar (FR – January 24th), and the elegant and ultra-danceable beats of Jeremy Olander (SE – January 25th). Plus, don't forget VNSSA (US – February 7th, Dirty Bird vibes and more!), Chaos In The CBD (UK – February 8th), the Parisian jazz riffs of Bellaire (FR) and Montreal melodies of CRi (January 31st), and industrial techno by Sentimental Rave (FR – February 1st). There's truly something for everyone, with sounds displaying the richness and diversity of today's electronic music scene.
Montreal's underground foundation, at our side as always.
Because Montreal wouldn't be the same without them, Igloofest is proud to collaborate with the freshest local collectives year after year, presenting many of the festival's hottest nights: KiziGarden, Saisons, NVA, NEON, FRONT RITE, Turning Point, OCTOV, Midnight Jacuzzi and 00:AM are the 9 collectives who'll share their world with us as part of 2020's local programming.
>> VIDEO - Igloofest 2020 programming reveal
>> Igloofest 2020 programming on one page
>> Detailed Igloofest 2020 programming online
>> Party preview - official video of the 2019 season
A redesigned site to get you dancing!
As is tradition, Igloofest has redesigned its site at Jacques-Cartier Pier to create a brand new, original experience. This year, the main stage configuration and design have been completely revamped to offer more space to festival-goers and to make room for new IGLOOVIP terraces. Maximum room to dance and play! At Igloofest, we know how to turn cold weather into a red hot party!
Finally, in addition to music, Igloofest will offer a plethora of activities from gigantic games of skill at the festive Igloovillage, to crazy contests including the unforgettable Iglooswag costume competition, full of fun themes. Guests will also find a generous variety of food options, selected for the cold weather, to fill up on energy and treat themselves, all alongside our patented yetis. And of course, the heated pavilion will be open to all, for when the time comes to take off that Igloofest tuque… or to get a new one!
Tickets and tourist pricing
Igloogest features a variety of pricing options, including packages with lodging and/or transportation, so everyone, locals and tourists alike, can experience the Igloofest magic. All tourism information can be found here. Igloofest also welcomes student and/or corporate groups, with or without VIP packages. All info for student, corporate and VIP pricing can be found here.For all other ticket and season pass-related information for Igloofest 2020, visit our web site here.
A very special shout out for very special partners
For this 14th edition, which promises to be full of good times and emotional moments, Igloofest would like to thank its valued partners, which contribute to this unique festival's magic, starting with The Old Port of Montreal with whom this project came to life in 2007. Many thanks to our presenting partner Sapporo; to our official collaborators: Solotech and Videotron; to our weekend presenter: Banque Nationale; to our sponsers: SAQ, Poppers, Red Bull, Casino de Montréal and STM; to our public partners: DEC, Tourism Montreal, SDC du Vieux-Montréal and the government of Quebec; to our suppliers: Landr, Stageline, Zone Festival, Square and Simplex tool rentals; to our media partners: RA and Exclaim!; to our tourism partners: William Gray – official artist hotel, Hotel Monville, Auberge M Montréal, HI-Montreal Youth Hostel, Happening Gourmand and Via Rail.
Igloofest 2020
igloofest.ca
From January 16th to February 8th
At Jacques-Cartie Pier, Old Port of Montreal
Thursdays: 7:30PM to 11PM
Vendredis et samedis: 7:30PM to 12:30AM
18+*/ / No readmission
Igloofest is a MULTICOLORE production
- 30 -
Media Accreditation: media seeking to cover Igloofest 2020 are welcome to fill the media accredidation form.                  
For all additional information, interviews, photos, videos or music, please contact :
Igloofest media Contact:
Communications Mingotwo
Mélanie Mingotaud
melanie@mingo2.ca
514 582-5272
Multicolore Media Contact:
Roy & Turner Communications
Isabelle Longtin
ilongtin@roy-turner.com
514 844-9678, #212
Friendly yeti tip... don't miss out
Subscribe now!