Article  
TAKING PART IN IGLOOSWAG IS EASY AND FUN.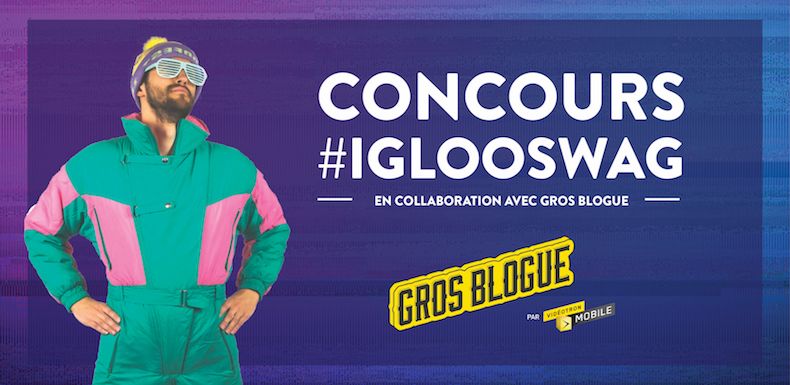 We heard that you had made amazing finds for your Iglooswag at grandma's and in the church basement. Good work. Now the time has come to show us your stuff! But first, we'll explain how this nifty contest works. Because we have great prizes, oh yeah. Ready?
The Iglooswag contest, in collaboration with Gros Blog, in a few easy steps:
1. Come take a picture of your swag in our photo studio. No need to even leave your contact details. #easysignup
2. The day after the event, watch our Facebook page because we'll have chosen the three best pictures according to our criteria (originality, swag, efforts toward the weekly theme, etc.) and we will launch a MASSIVE SEARCH. We must find out who ends up in the photos, as all festivalgoers in the selected photos are finalists!
3. If it's you, TAG yourself in the photo and share it on your Facebook profile.
Among all participants (if you are strong in math, you'll understand that there will be 36 finalists pics x everyone tagged in the photo), the ultra-serious jury composed of the Gros Blog and Igloofest teams will select the 3 best photos. Then we'll RANDOMLY select the three big winners at the end of the event (1st, 2nd, 3rd) that will win the following prizes:
The Grand Prize (worth $6028.75)
An all-inclusive trip to Montego Bay (Jamaica) for two people offered by Sunwing Vacations
A Samsung Galaxy S5 neo + one year subscription to a Premium Package with Unlimited Music offered by Videotron Mobile
A Moose Knuckles winter coat
2nd prize (worth $1,284)
Two nights for 2 persons at White Face in Lake Placid
Six ski lifts days at White Face.
A pair of Anfibio boots
3rd prize (worth $876)
Three nights "Cozy" double occupancy at the W Hotel Montreal.
A pair of Anfibio boots
So come try your luck, parade your swag, but most importantly immortalize your time at this 10th edition of Igloofest. See all contest rules here. We look forward to seeing you there.
Friendly yeti tip... don't miss out
Subscribe now!