Article  
Off-Igloo 2019 | Free event for everyone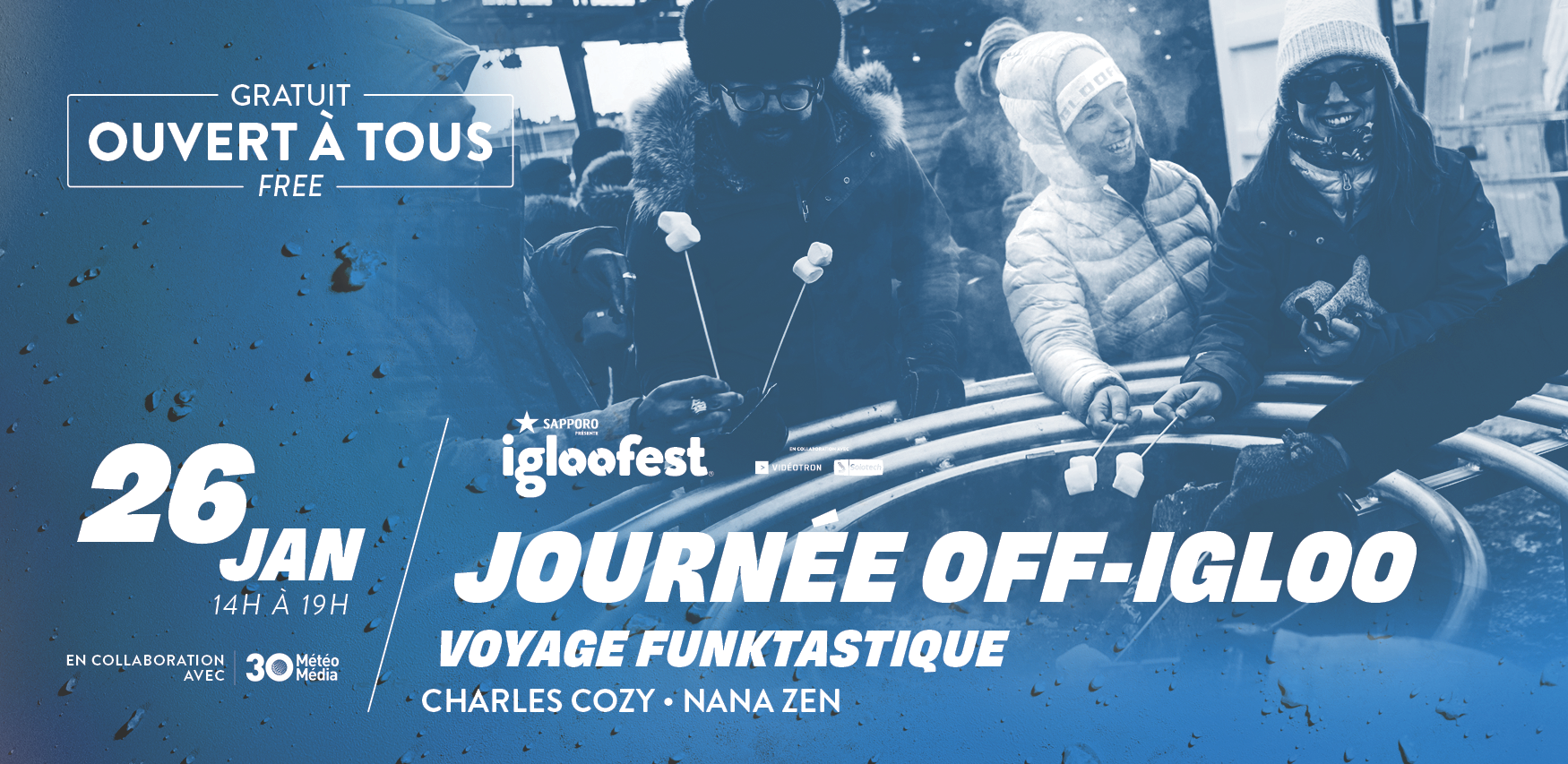 This Saturday, January 26th, Igloofest presents its second ever Off-Igloo day, in collaboration with Météo Média. This free afternoon allows visitors young and old to experience Igloofest in broad daylight. With its games, festive music and astounding visuals, it's an exceptional opportunity to discover Igloofest as a family or with friends, and even to explore its backstage areas.
 
All of Igloofest's evening fun - and more - open to all
It'll be a party at Jacques-Cartier Pier this Saturday for families, future festival-goers of all ages and veterans looking to experience Igloofest with their kids, as they'll be able to enjoy all of the site's activities for free, starting at 2PM. Games of skill and friendly competitions will abound at the Igloovillage, including the dizzying Iglooslide, Volley-Pong, the Sapporo Hero and the ever-impressive Christmas Tree Toss. You can grab a snack at Cantine Chez Nik and satisfy your sweet tooth with donuts from Beignes d'antan or by roasting marshmallows by an open fire. And after capturing the moment at the souvenir photo studio, curious attendees can even visit the site's backstage areas, exceptionally open to the public during this special day.
 
Music and multicolour projections
Obviously, Igloofest is first and foremost a dance party, so attendees can shake a leg at the Videotron stage to Montreal artists Voyage Funktastique, Charles Cozy and Nana Zen. And for a complete and totally immersive experience, the site will light up thanks to original creations by VJ TiND as night falls at 5PM.
 
The entire Old Port is in on the party!
For this special occasion, Igloofest invites its neighbours at Patinoire Natrel, the Montreal Science Center and Imax, Voiles en voiles and Zipline MTL to join in on the fun through special rates and packages for the day. All details on rebates are here
 
Igloofest is open to all, for free, Saturday afternoon! Spread the word, grab your family and friends and come experience an unforgettable day!


OFF-IGLOO - SATURDAY, JANUARY 26TH 2019 - FREE
📍Quai Jacques-Cartier - Old Port of Montréal | 2pm to 7pm

VOYAGE FUNKASTIQUE [QC]
CHARLES COZY [QC]
NANA ZEN [QC]
VJ TINK :: thisisnotdesign.com
-
🎟 FREE EVENT FOR ALL AGES
-
DISCOUNTS:

Old-Port ice rink | 15% discount on family packages, from January 17th to February 2nd. 
Montreal Science Center and Imax |15 % discount on adult tickets and family packages, from January 17th to February 2nd.  
MTL Zipline | $14,99 from Friday to Saturday, from 2pm to 7pm. 
Voile en voile | 15% discount on daily access to winter aventure Park or on Archery Tag combat package - one hour session. 
Friendly yeti tip... don't miss out
Subscribe now!