Article  
INFOPROG 2020 | WEEKEND 2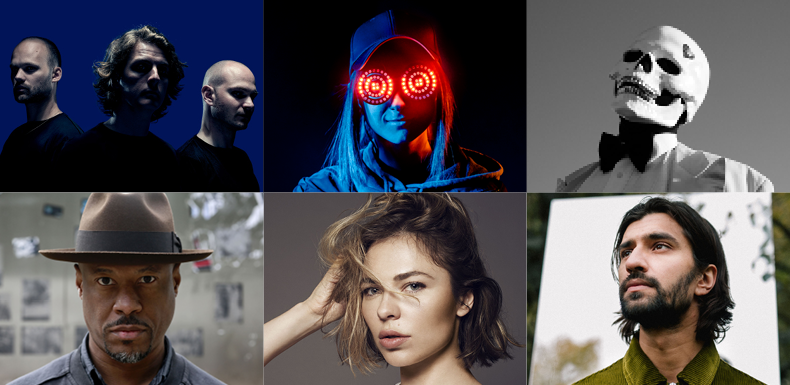 Ready for round 2? Because Igloofest is right back at it, this Thursday, you winter warriors! Heavyweight bass, electronic discoveries and body rocking techno… Get ready for one of the most supercharged line-ups in festival history at Igloofest, this weekend!
THURSDAY, JAN. 23RD
OFF-IGLOO
7:30PM - 11PM
NOISIA
Thursday, we'll kick things off with an Off-Igloo event courtesy of Valhalla Snow Circus, as cult Drum n' Bass act Noisia warms up our frozen shores as part of their farewell tour.
They'll share the stage with the prolific and forward thinking Tsuruda, Sam Lamar, a rising star of Montreal's bass scene, and Musik Me Luv selecta Melek.
FRIDAY, JAN. 24TH
07:30PM - 00:30AM
REZZ
The next day, we'll be right back at it at the Sapporo stage, as the Mau5trap signed LUNR opens things up followed by REZZ, the I o label's newest star, who'll lead the evening to its crescendo in a flurry of sound and energy!
Préparez-vous à ne plus en revenir quand la lumineuse rafale survoltée REZZ montera sur scène pour clôturer la soirée!
At the Vidéotron stage, the one and only Vladimir Cauchemar will light up the proceedings as only he can.
And don't forget Montreal personalities Coach Vic and Odile Myrtil will be there to wet your appetites.
SATURDAY, JAN. 25TH
2:00PM - 07:00PM
IGLOOFÊTE | FREE
Saturday will be a fun one as Igloofest opens its doors to families during the day for Igloofête! Sweets beats guaranted by Shaydakiss, Dead Horse Beats and Robert Robert and the entrance is free 
FB EVENT
SATURDAY, JAN. 25TH
07:30PM - 00:30AM
NINA KRAVIZ
Then, things will get pretty wild, so break out your best dancing shoes and get swept away in the legendary Nina Kraviz' techno sounds.
She won't be the only legend on stage however, as Detroit will be in the house, courtesy of Robert Hood!
And fans of experimental, face scrunching, and dubby techno will want to be there early as CMD open things up to get everyone loose and limber.
The Vidéotron stage meanwhile, will come courtesy of Front Rite, with Alya V and the electrifying duo of Hicky & Kalo stepping up, before the superb tech house of Sweden's Jeremy Olander takes over the dance floor. Rest up, practice those dance moves and see you on the floor!
Friendly yeti tip... don't miss out
Subscribe now!