Article  
IGLOOPROG | WEEKEND 4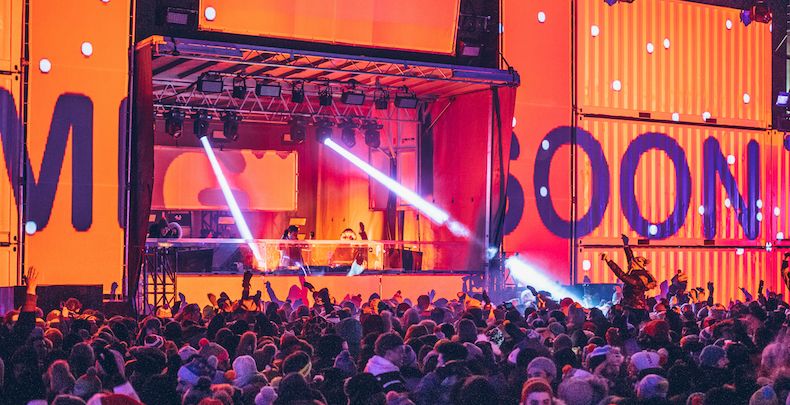 Thursday, February 4
Presented by Videotron Mobile, in collaboration with MUTEK and XLR8R
One of our biggest nights of the entire edition: the 50Weapons Finale tour! Modeselektor's venerated label is closing its doors after 50 releases and celebrating with a ten-city international tour. For the Montreal stop, they're taking over both stages.
The Sapporo stage gets fired up with ace techno producer and Traktion radio show hostess CMD at 7:30pm, who'll set the stage for the Montreal live PA debut of the super-group Siriusmodeselektor at 8:30pm, featuring the members of Modeselektor with label-mate Siriusmo. Next up at 9:30pm is the corrosively loopy techno of American DJ Truncate. To finish, the label-founding duo returns to the stage at 10:30pm for what ought to be a dancefloor-destroying DJ set.
On VJ duty for the evening, expect eyeball pleasures from Diagraf (7:30pm and 9:30pm) and Modeselektor's long-running visual partners Pfadfinderei join the party for one special hour at 8:30pm.
Over at the Videotron Mobile stage, inventive Berlin techno producer Shed spins us off to a solid start at 8pm, while British DJ Benjamin Damage is ready to wear down the soles of your winter boots from 10pm till the very end.
The fun lights come courtesy of VJ Cafrine (8pm) and TiND (10pm)
Friday, February 5
Presented by Videotron Mobile
Just when you think the line-ups can't get any bigger, the weekend begins. At 7:30pm, local producer Magnanime sets the tone for the evening at the Sapporo stage with a live PA. Kompakt Records co-founder Michael Mayer finished off our last edition of Piknic, and now he's back at 8:30pm to ensure that Igloofest also ends on a high note. Finally at 10:30pm, globetrotting Italian duo Tale of Us make it a crime to be anywhere else on this legendary Friday night.
It will all look larger than life due to the magic of VJ Yanneek (7:30pm) and Ma" (10:30pm).
Over at the Videotron Mobile stage, the Stereo crew makes the trip down to the Old Port, as Maher Daniel and Ostrich go back-to-back all night long as of 8pm. Technooooo!
Making your journey multi-sensoral are Myriam Boucher (8pm) and Azyl (10pm). 
Saturday, February 6
Presented by Videotron Mobile, in collaboration with Nightlife.ca.
We finish off with a night for the subwoofer aficionados. Local DJ Laura Scavo gets us started at 7:30pm with deep, sexy, and bouncy rhythms. Next up at 9pm, British bass is in the spotlight courtesy of Swindle. Finally, we sample the latest from the French scene with Brodinski at 10:30pm.
Turning on the night lights this evening are Chocobeets (7:30pm) and Tetsouille (9pm).
Over at the Videotron Mobile stage, our very own Stefny Winter (8pm) and France's Traumer (10pm) take us on a minimal techno journey.
Seismic atmospheric reactions courtesy of Oli Sorenson (8pm) and VJ Yanneek (10pm).
Friendly yeti tip... don't miss out
Subscribe now!