Article  
Igloofest 12th edition wrap-up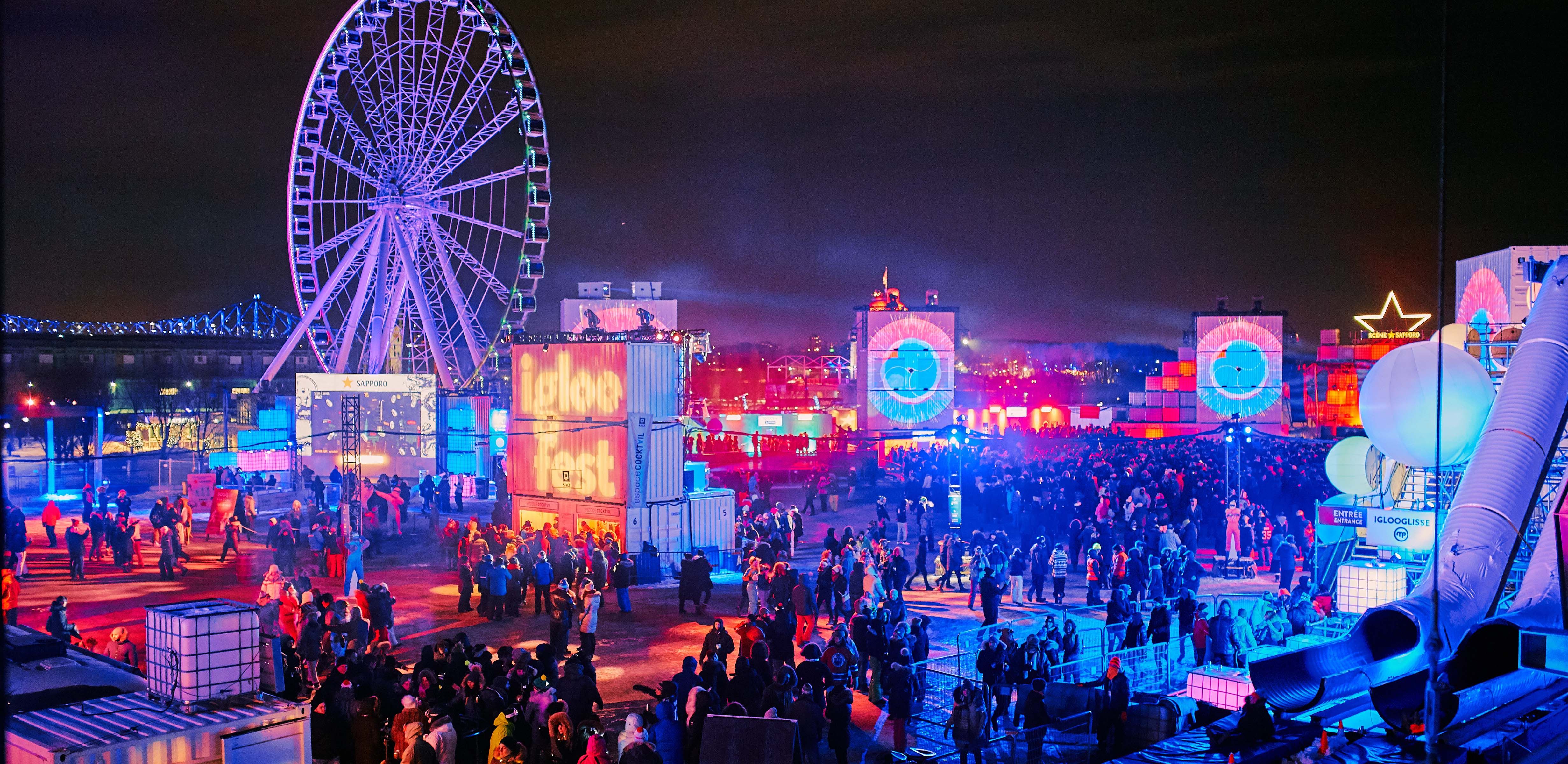 Igloofest 12th edition wrap-up
More than ever, Quebec's must-attend winter event 
Montreal, February 13th 2018 - Nearly 70,000 giddy visitors will tell you that winter means Igloofest,® as they danced, laughed and lived the Igloofest experience for 9 nights during its 12e edition. Kicking off with a new opening attendance record thanks to Kaytranada (QC) and Petit Biscuit (FR), Igloofest kept the energy levels high all the way, celebrating with Oliver Heldens (NL), Misstress Barbara (QC) and over 50 invited guests. All in a unique ambiance full of festive reunions, in its biggest and best space yet! 
Music: stars each and every night!
With 54 invited DJs and producers, Igloofest 2018 showcased brilliant stars each night, starting with our very own Kaytranada (QC) who inaugurated this 12th edition with a master's touch at the Sapporo stage in front of a nearly full capacity crowd of over 10,000 happy dancers. The very next day, Petit Biscuit (FR), the 18-year-old French phenomenon matched this feat, bringing in just as many people. Fans of the classics were thrilled to welcome back the maestro Bonobo (GB), savour the return of the mythical duo Sasha & John Digweed (GB), and celebrate our eternal Misstress Barbara (QC) who once again stole our hearts. We also made unforgettable memories thanks to Tokimonsta (US), Low Steppa (GB), Kiddy Smile (FR), Oliver Heldens (NL), Black Tiger Sex Machine (QC) and a spectacular grand finale guided by the melodic sounds of Hungry Music's French trio N'To (FR), Worakls (FR) and Joachim Pastor (FR).
Montreal's stars also shined bright during this edition, and among 2018's excellent cohort, we have to shout out Honeydrip's prodigious set, Ouri's unique class, Vilify's whirlwind energy, Michael Sparks' amazing chemistry with his guests, Kora's contemplative and majestic set which took us on a journey, and Jaclyn Kendall and Mike Laz's sublime techno, which closed our final night at the Videotron stage. 
Finally, we can't forget the success of our first two nights exceptionally open to festivalgoers age 16+, which allowed us to shake to NGHTMRE (US)'s heavy bass and experience a night of incredible hip hop, orchestrated by DJ Esco (US), Boi-1da (CA) and a whole team of local artists that kept the place hot and heavy. 
Igloofest's site: a special mention
If Igloofest has become the Quebec winter's must-attend event, it's also thanks to the experience beyond the dance floor. Transformed into the welcoming Igloocantine, the pavilion and its courtyard became a festive village each night, with attendees grabbing a bite and taking a break with friends around the fire. Meanwhile, the Iglooslide, games including a giant bean bag toss, the "Can Hunt" and the classic tug of war, and the Iglooswag costume contest's photo studio, all ensured fun reigned in every corner of Jacques-Cartier Pier. We also focused on comfort, moving the stages and expanding the site's total space, making it our biggest yet and allowing crowds of up to 10,500 people to dance their hearts out. And to illuminate this wonderland, this gigantic space was animated by fascinating original creations by 23 great Montreal visual artists.
A great success for the free Off-Igloofest day
Over 3000 people of all ages participated in this special event open to families and future festivalgoers, curious to learn about Igloofest's magic. Opening its site and even its backstage areas to visitors for the day, Igloofest invited everyone to explore, enjoy the Igloovillage's activities and grab a bite at the outdoor Yeti Grill and the Igloocantine. Above all, we invited everyone to dance to the sounds of Montreal's Tupi Collective, Tizi and Qualité de luxe with Mr Touré! and Kyou. Presented thanks to help from Tourism Quebec, this joyful day saw the site glow in the sunshine and under VJ Binocle's projections, and served as the perfect prelude to Igloofest's closing night of 2018, just a few hours later!
Thanks to our partners who dance with us year after year
This one-of-kind event attended by tens of thousands of visitors wouldn't be possible without the continued support of precious partners, including The Old Port of Montreal with whom this idea sprung forth and took form twelve years ago already. We'd also like to thank our loyal friends at Sapporo, our presenters for the 7th year. We also sincerely appreciate the support and know-how of our official collaborators Solotech and Videotron. Salutations to weekend presenter Musique Plus. Kudos to our sponsors SAQ, Poppers, Red Bull, Casino de Montréal, STM, RBC Royal Bank of Canada and Yimby. Festive reverence to our public partners Tourism Quebec, Tourism Montreal, Destination Canada, SDC du Vieux-Montréal and the Government of Quebec. Cheers and long life to our suppliers Jack Daniel's, romeo's gin, Stageline, Equipment rental Simplex, Landr, Zone Festival, Vendini, Mystique Cider, GLÖGG, ESKA, Noize, Lozeau, Square and Whiteface. Bravo to our media partners CISM, UB Media, exclaim.ca, VICE, Nightlife.ca and ADM Montréal. Finally, merci and au revoir to our tourism partners W - the official artist Hotel, Hotel Zero 1, Hotel William Gray, HI-Montreal Youth Hostel, Happening Gourmand, Via Rail and Groupe Voyage Québec.
Thanks again to the thousands of festivalgoers and to all of the artists. 
See you next January. 
Because winter without Igloofest, just isn't winter!
Friendly yeti tip... don't miss out
Subscribe now!