Article  
DISCOVER THE NORDIK VILLAGE INSTALLATIONS #3
As part of Montreal's 375th anniversary Hivernales celebrations, we've built one heckuva village right in front of the Igloofest site: we lovingly call it the "Nordik Village". This week, we complete our tour of the installations by showcasing the final two, which address the environment, recycling and nature. Because these things are IMPORTANT.
CELSIUS, igloo solaire | L. McCOMBER ARCHITECTES
Celsius! The solar igloo reinterprets the traditional Inuit lodging in a new way. Its interior shape with its sunroof rethinks the characteristics of this primordial lodging. Protected from sound and cold by a thick layer of recycled clothing, it uses passive and active solar energy for warmth and brightness. Built into the south wall, panels capture the heat of the sun during the day and stock it into a bench that radiates this same energy at night. On the roof, solar cells charge a battery that powers the lighting at night. A calm oasis in a world of noise, Celsius invites you to savour an introspective and eco-responsible calm.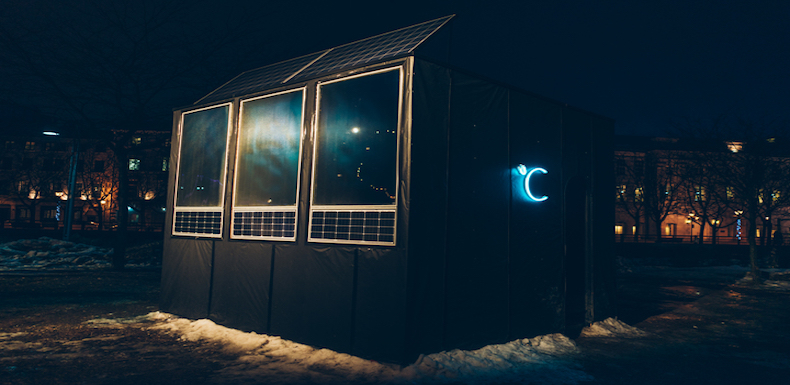 "BLUE IS THE NEW GREEN'' -Dale Cools | KANVA
"BLUE IS THE NEW GREEN'' is a winter installation inviting the public to live a Nordic lifestyle by inhabiting a northern landscape that transforms itself according to our daily weather. This changing weather creates magnificent interior climates that vary from frosty to balmy, challenging you to live, adapt to, inhabit and rediscover northern life. Shaped by cold, rain, snow, wind and pine trees, the installation showcases the inside of a frozen tree's shell, delivering an experience where calm, a fresh pine smell and the cracking sound of the ice all contribute to an immersive experience. The tree is not only natural and sustainable but was also recycled for this very project, as the installation took advantage of the post-Holiday glut of pine to give this particular Christmas tree a second life.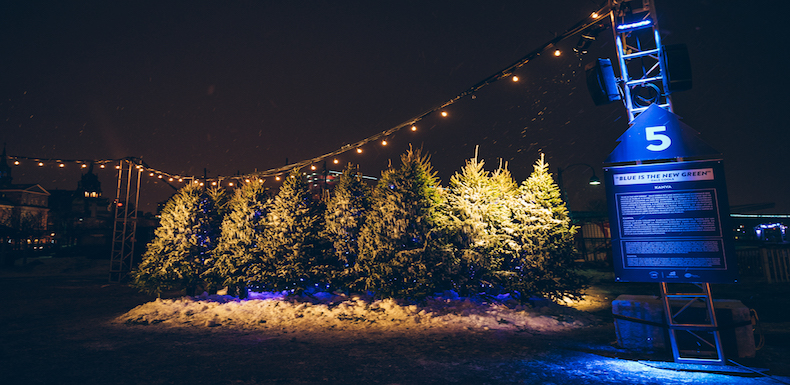 THERE WE GO!
Don't forget that the Nordik Village is open through February 19th. You can't just say: "Oh, I don't have time". C YA!
Friendly yeti tip... don't miss out
Get the deets on this year's lineup.