Article  
IGLOOFEST COMES TO QUEBEC CITY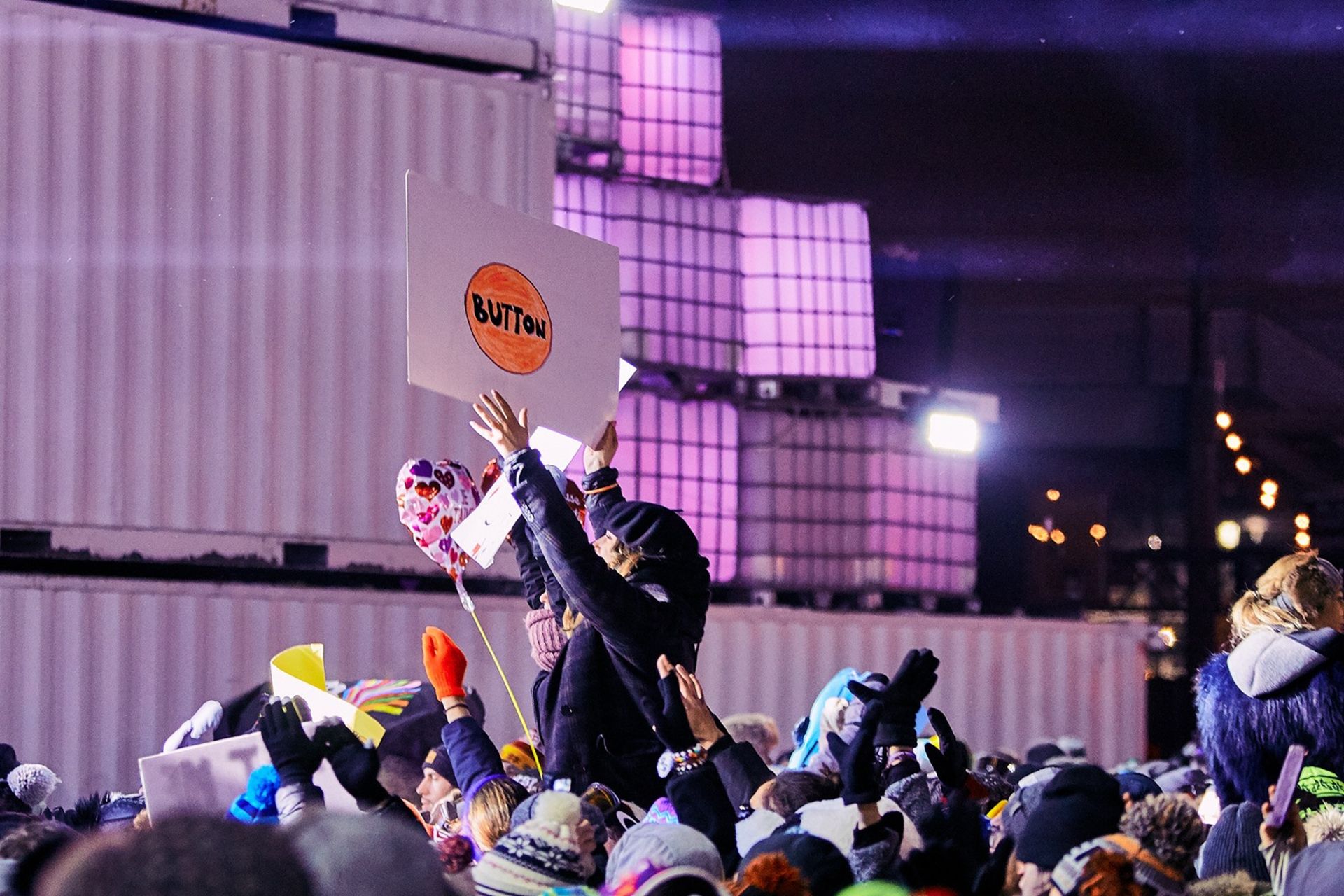 Place Jean-Béliveau set to welcome throngs of electronic music fans in March!
Québec City, Tuesday, December 14, 2021 - IGLOOFEST, the icy festival that has been drawing indomitable electronic music enthusiasts to dance in the cold for 15 years, is bringing its different beat to Québec City on March 16, 18 and 19, 2022, when it takes over Place Jean-Béliveau in the heart of ExpoCité. Gestev and Multicolore, partners for the past two years, are teaming up to throw the winter party. So grab your vintage snowsuit and hold on to your tuque: Igloofest Québec will be a wild ride headlined by KAYTRANADA, Zeds Dead and Above & Beyond!
Igloosapiens can buy their Igloopass now for $84 (including service fee) on igloofest.ca. Valid for admission to all shows. Available in strictly limited quantities.
Tickets for each night go on sale Thursday, December 16. (Staring at $30 including service fee, plus tax.)
"Electronic music is huge in Québec and we are very pleased to present this unique event here," says Martin Tremblay, Chief Operating Officer of Quebecor Sports and Entertainment Group. "It will be a great opportunity for fans of electronic music to come out and celebrate the end of winter together."
"Igloofest is back in a big way for its 15th anniversary, and we're celebrating the occasion by holding Igloofest in its original format in Québec City for the first time," says Pascal Lefebvre, Cofounder and CEO of Multicolore. "We are animated by our creative collaborations and we are thrilled that they make it possible for us to kick off our Québec City edition with such a strong program. It will be three nights to remember for fans of winter, music and unconventional experiences."
Electrifying program
Taking its cue from Igloofest Montréal, with its icy decor, striking architectural design, and line-up of the best local and international DJs,Igloofest Québec will bring out thousands of festivalgoers to warm up the night at the hottest event in Québec City this winter.
The abominable snow gang invites Igloosapiens to sway to the beat of the best electronic music: on Wednesday, March 16, Hattian- Canadian musician, producer and DJ KAYTRANADA, winner of two Grammy awards, will headline the festival's first night after opening DJ sets from Lou Phelps and LOU FRE$H. On Friday, March 18, ROSSY and Deathpact will open for Zeds Dead, master of the remix and now melter of glaciers! On Saturday, March 19, the last night of the festival, Gardenstate and Sinca will warm up the winter warriors for famous trance band Above & Beyond, which has been at the cutting edge of electronic music for two decades. All shows are 18 and over.
We thank our partners
Igloofest Québec would not have been possible without the support of its valued partners: presenting partner Videotron, sponsorsSapporo, National Bank, Solotech, SAQ and QUB Musique, and official supplier Harvey's. Igloofest Québec also thanks its public partners, the Government of Québec and event venue ExpoCité. Last but not least, we have (Avec) Courage to thank for the outstanding line-up.

About Igloofest
Since 2007, Igloofest has been bringing together thousands of music lovers to dance under the stars at Montréal's Old Port. In 2022,Igloofest is celebrating its 15th birthday and launching its first Québec City edition. With its icy decor set against steel structures, its striking architectural visuals, its program that draws the best local and international artists, its surprising and playful Igloovillage, and its tacky snowsuit contest, Igloofest is one of Québec's hippest events and one of the country's most popular winter destinations.
About Multicolore
Multicolore has successfully made its mark on the Québec cultural and event scene for nearly 20 years. Masterfully creating colourful, inspiring, creative and vibrant experiences, Multicolore is responsible for such must-see Montréal events as Piknic Électronik, Igloofest, the MEG festival, and Super Fête. It includes a production division, Matane Productions, and now Courage! Multicolore creates and produces unique social experiences and events that bring people together and entertain them by mixing talents and creative collaborations of all shapes and colours.
About Gestev
Gestev is an event developer and organizer founded in 1992 that has made a name for itself in Québec and internationally. It produces, presents and promotes cultural and sporting events and brings local and international talent to audiences in its market. As a subsidiary of Quebecor Sports and Entertainment, which also includes the Videotron Centre, Baie de Beauport, Théâtre Capitole and the Cabaret du Casino de Montréal, Gestev is able to present high-quality events enhanced by the convergence opportunities offered by the Quebecorgroup's scope. Red Bull Crashed Ice, the Vélirium, the UCI Mountain Bike World Cup, Je Cours QC and the FIS Cross-Country World Cup are only a few of the major events produced by Gestev. Gestev also operates its own experiential marketing agency, with offices in Québec City and Montréal.
More info: Igloofest: www.igloofest.ca -30-
Information and interview requests:
Gestev
Melissa Parent
Communications Advisor | Quebecor Sports and Entertainment Group - GESTEV mparent@gestev.com | 418-931 4068
Multicolore (for Montréal media):
Communications Mingotwo
Mélanie Mingotaud
melanie@mingo2.ca | 514-582-5272
Lorenzo Feldhandler
lorenzo@mingo2.ca | 514-817-3563
Friendly yeti tip... don't miss out
Get the deets on this year's lineup.