Article  
A SPECIAL IGLOOFEST EDITION FOR MONTREAL'S 375th LES HIVERNALES CELEBRATIONS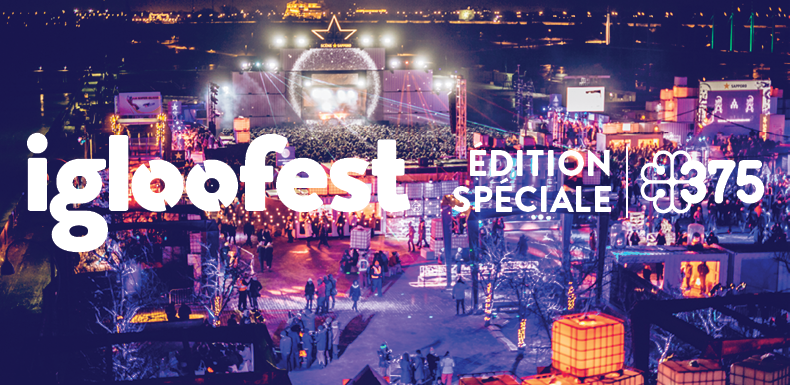 Igloofest will take over the Old Port for SIX WEEKS as part of Les Hivernales celebrations for Montreal's 375th. #scoop That's right—two weekends more than usual so we can make the fun last until February 18.
In addition to the event's four regular weekends, from January 12 to February 4, Igloofest has cooked up a host of activities to make your winter nights even more festive during the 375th special edition: a Nordik Village, a Nordik Chute, the very first Nordik Games and even two evenings OFF-IGLOO. And it's all FREE, kids.
Starting January 12 in Place Jacques-Cartier, get ready to hurtle down the Nordik Slide, a modern take—with an Igloofest twist—on the very first toboggan chutes featured in the original winter carnivals of over 100 years ago. A ton of fun for both dedicated Igloofest fans as well as visitors just coming to discover what beautiful Old Montreal has to offer in the winter.
For six weeks of this special edition, come experience the one and only Nordik Village, an interactive circuit created by seven Montreal-based design firms presenting seven different visions of a temporary winter dwelling. It's Nordic life reimagined!
Participate in the first-everNordik Games over the festival's final two weekends, February 11 and 18. These crazy competitions are designed for children of all ages and include the famous Christmas Tree Toss and other wacky contests like Dig Out Your Car or Build Your Tempo Shelter! A nod to our northern character served with a healthy dose of humour and a touch of mockery. Yup, that's us.
And that's not all! On Saturday, February 11 and 18 our two free OFF-IGLOO parties give you the opportunity to continue the party. #andthebeatgoeson
It's shaping up to be a truly unforgettable experience. And one thing's for sure: if you aren't already a winter fan, you're going to love Montreal's cold season at IGLOOFEST for Les Hivernales!
Friendly yeti tip... don't miss out
Subscribe now!