Article  
2019 INFO-PROG | WEEKEND 2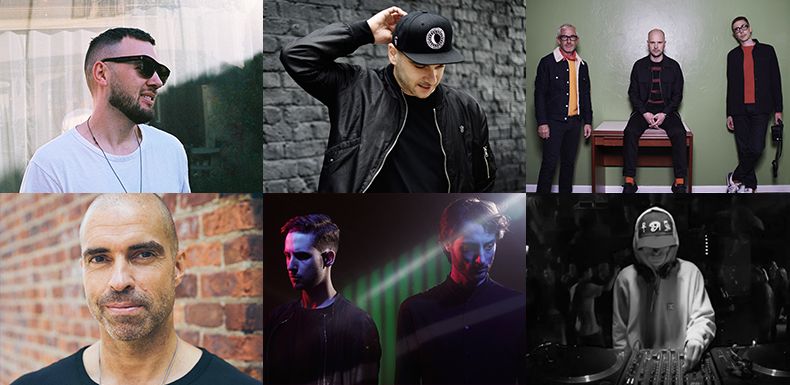 THURSDAY, JANUARY 24TH, 2019
CHRIS LAKE
Weekend #2 will start with a bang at the Sapporo stage, as Montreal's Mizz Maxine drops some high energy house to get you all warmed up with smiles on your face. Then, American bass champion AC Slater will deliver a heaping dose of low end frequencies which will have everyone's bellies rumbling- expect power! Finally, his fellow Angeleno Chris Lake will keep things pumping, with more heavyweight dance grooves.

At the Videotron stage, Big Tooth will present an evening of next level bass music, starting with the deep and dubby sounds of Montreal's MELEK, followed by some high energy electro courtesy of Bawdy, and the thunderous sounds of America's YOOKiE, who is back in Montreal and ready to drop a megaton of bass in the headline spot. #freeyookie. Don't miss it!
FRIDAY, JANUARY 25TH, 2019
ABOVE & BEYOND | SOLD OUT  
Talk about highly anticipated! January 25th will begin in style with Solid Stone's deep rolling tech house at the Sapporo stage, followed by America's Spencer Brown, courtesy of Anjunabeats, and his futuristic, progressive take on high powered dance music. Finally, UK grandmasters Above & Beyond will beam you into another dimension with their trance inducing, ethereal grooves. You'll just have to throw your hands in the air!

At the Videotron stage, Conkrete will present an evening at the intersection of bass and house music, starting with the jackin' sounds of Mandiz followed by a huge back to back set: AEIOU X White X Marcbookpro. Finally, the UK's Waze & Odyssey will headline in a five star main event complete with blistering high-energy anthems.
SATURDAY, JANUARY 26TH, 2019
CHRIS LIEBING 
Our final night of weekend #2 will be one for techno lovers at the Sapporo stage where we'll start the adventure with Montrealer Debbie Døe's deep, outer space excursions, followed by Italy's Mind Against and their inimitable style of dark, dubby, percussive funk. Then, they'll pass the torch to German superstar Chris Liebing for a live set full of fast, hard hitting techno grooves. The very best in machine music, right here at Igloofest - don't miss a minute!

Want even more futuristic, next level music? Well you're in luck as MUTEK will present the Videotron stage, starting with Montrealer Softcoresoft's adventures in new school club sounds. Then, Zenker Brothers will merge breakbeats and techno for an unforgettable set, before tagging in their Illan Tape peer Skee Mask for some truly forward thinking sounds combining everything from techno's drive to jungle's groove.
SATURDAY, JANUARY 26TH, 2019 FROM 2PM TO 7PM
OFF-IGLOO: FREE EVENT FOR EVERYONE
The party will start early on Saturday with an Off-Igloo day, a FREE event open to one and all, presented in collaboration with Météo Média from 2PM to 7PM. For this special occasion, families and future festivalgoers of all ages who want to discover the Igloofest magic can dance at the Videotron stage with Montreal artists Voyage Funktastique, Charles Cozy and Nana Zen. An excellent introduction to electronic music in a unique setting.
Friendly yeti tip... don't miss out
Subscribe now!